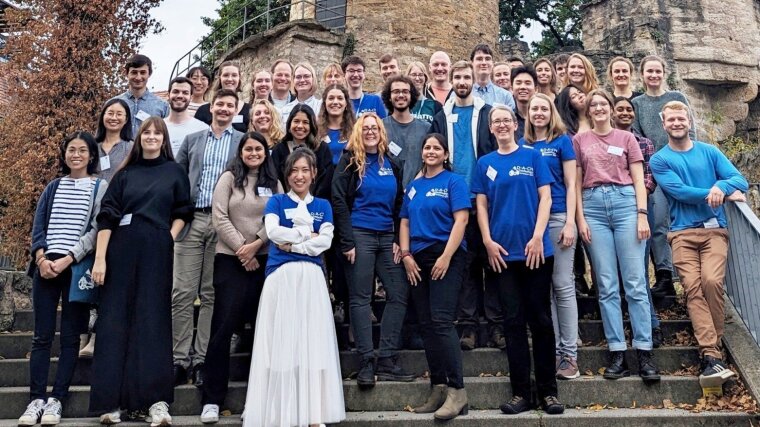 Successful D-A-CH Geobiology Symposium
11-13 October, Jena/Germany
Participants of the 2nd D-A-CH Geobiology Symposium Oct 13th
We would like to thank all participating early career researchers and invited guests for their contributions to our 2nd D-A-CH Geobiology Symposium at the Rosensäle Jena on 12-13 October 2023!!
The aim was to bring together young researchers from the field of geobiology and to create a platform for networking, presenting and discussing. With the participation of 55 scientists from working groups in Germany (D), Austria (A), and Switzerland (CH), it was a great success. Topics included the origin and emergence of life, climate change, microbial life under extreme conditions, and the deep biosphere.
Prof. Liane Benning (GFZ Potsdam) opened the symposium with an outstanding Plenary Talk on "How microbial dynamics and geo-bio interactions accelerate the melting of the Greenland Ice Sheet". This was followed by three talk sessions and one poster session with contributions only by young researchers. We were very happy to organize a roundtable discussion with Prof. Cara Magnabosco (ETH Zurich), Christian Griebler (Uni Vienna), and Tillmann Lüders (Uni Bayreuth) on career advice and hot topics in geobiology. To kick-off the symposium, there was an excursion to the field sites of the CRC 1076 AquaDiva in the Hainich on Oct 11th and an early career networking event throuth the Jena city center on Oct 12th in the morning. 
Thanks to the support of the Joachim Herz StiftungExternal link, the Jena Alliance 'Life in Focus' de, and the Integrated Research Training Group AquaDiva, we were able to organize the event without a fee for registration and to attract many young scientists.
It is planned that the 3rd D-A-CH Geobiology Symposium next year will take place in Bayreuth.
Please find further information on the event here.